This may be a version of the "popemobile", that appears to be the Vatican coat of arms on the side. Possibly an eastern European ?

Восточная Европа здесь не причем. Данный "папамобиль" использовался в 1992 г. во время визита Иоанна Павла II в Доминиканскую республику. Автомобиль-донор Toyota BJ (Ранний Land Cruiser), что уже не характерно для "папамобилей". По непроверенной информации автомобиль был заказан в Венесуэле (!) Вопрос в том, кто в этой стране мог сотворить такой кузов, да еще пройти "сертификацию" Ватикана.

Popemobil is right - bassic by Land Rover ! 10W or the following model of Land Rover.

... ;-) Land Rover W 109 ;-)

No "def", early cruiser (!!!!!)

toyota land cruiser

this is Toyota Land cruiser probably 1979 or 1980 model

Seth Meyers-Mulloy

Customized Land Cruiser pickup no doubt.
Unknown models: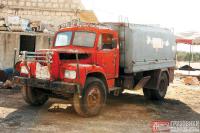 Do you know?
View all »