Mercedes
http://www.em-bohr.de/

The enterprise E+M was created 1919 in Hof, Bavaria, and is for more that 90 years
a reliable partner for drillings and building of wells.

With more than 130 coworkers the enterprise within the range of the water development
ranks among one the prominent in Germany.

Customers in Europe and estimate the technical authority and the high quality standard,
as well as co-operation in line with standard usage world-wide

MB truck cabine is right - incl. the technic of E + M ;-)

...andone of he modern Tatra cab as like MB and Eros Argentina et Brasilia ( Griffet - Argentina - Brasilia ).
Unknown models: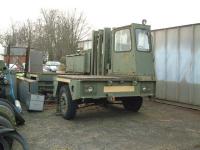 Do you know?
View all »