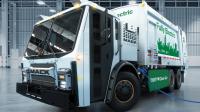 Mack Trucks showed the LR BEV battery-electric refuse truck at the WasteExpo 2019 in Las Vegas. The truck has a built-in electrical powertrain consisted of two 130 kW electric motors, which together produce 496 hp (continuous power 349 hp) and 5500 Nm of torque from zero rpms. It is also equipped with a two-speed Mack Powershift gearbox. Energy comes from four NMC lithium-ion batteries.
"New York City, and DSNY in particular, is a world leader when it comes to testing the latest technologies to help us reduce our environmental footprint," said New York City DSNY deputy commissioner Rocky DiRico. "We're proud to be the first Mack customer to test this exciting new technology, and we look forward to continuing to work with Mack throughout this project."
The company claims that refuse operations are ideal for electric trucks, as they follow predetermined routes and return home after every shift. Frequent starts and stops provide significant regenerative braking for energy recovery.