Having a look at the picture of your half cab truck is a Leyland bus chassis rebuilt as a truck I have seen pictures of D/D buses AEC Regent IIIs rebuilt as chiller trucks to carry ice cream Orange NSW.And a Albion Venturer CX19 rebuilt to carry wheat.

I think this is a Maudsley going by the radiator badge. Many trucks were built like this. Long lengths of steel or timber could be carried further forward over the near-side front axle

Leyland vbus chassi with wood falt bed - ok this truck come from th 1914 with black ruber wheels ( once of the first with black ruber wheels = Gummibereifung ). Leyland bus chassi truck driving till now in all over the world. ;-)

This is clearly a Herkimer Battle Jitney. Get me outa here!

Its a big icky truck-thing. You die in Hell, Joran. It wasn't even that good.
Unknown models: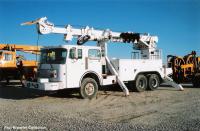 Do you know?
View all »