Oshkosh LVSR

КрАЗ-6316

КрАЗ-6316 я так понял это прикол)))))!rnrn

Я хз) Просто похож сильно)))

It's a prototype forward control Oshkosh that was based on the MTVR and initially intended for the UK MoD's Support Vehicle requirement. It did not enter production.

На Камаз смахивает..

All ok, they takes the same camion cabine. ;.-)

http://www.scribd.com/doc/17147173/Oshkosh-LVSR-Brochure-309

Димон, чёт не похожа. Разные совсем машины!

Нате.
http://www.oshkoshcorporation.com/news/mediacenter/MTVR_CF/MTVR_cabforward1.jpg

Получается что это MVTR c кабиной от LVSR
Вот еще.
http://www.fleetwatch.co.za/magazines/Oct03/Oct2003pics/P49-01.jpg
Unknown models: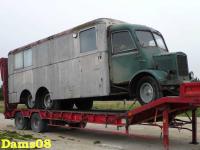 Do you know?
View all »