I think that could be a some type of Chevrolet.

On the car is written "Tissu Garanti Boussac", advertisement in Frence for good tissues. I Think they were sold in Paris by Henri Caen & Fréres on the Rue st Denis a Paris France. I think it's a French car.

JE PENSE QU IL SAGIT D UNE BASE RENAULT 2,5 t.

I agree with Jeroen. It was very common in France in the 50s and 60s to have individual car bodies on delivery vans for better marketing. Such cars were often based on the Citroën H platform (HY, HZ, HX, HW, 1600, see https://en.wikipedia.org/wiki/Citro%C3%ABn_H_Van). Position of doors front grill and wheels position and size would fit. But it probably may also fit to similar van models from Peugeot or Renault.

Then again that picture has a hard to read domain name on. It clearly ends in .co.uk and I think it is http://photoarchives.co.uk/ (as also present, but better readable on http://www.trucksplanet.com/unknown/answers.php?id=84)-- photoarchives.co.uk indeed has a big collection of similar pictures, but I haven't found this one in their Van section (http://www.stilltimecollection.co.uk/gallery/58-0.html)

Axel is very close. He may even be right, but seeing the double rear tyres I think Guy wins the price. This must be a Renault Galion.
Unknown models: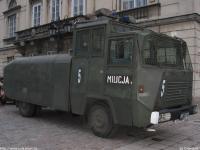 Do you know?
View all »