Chevrolet or Ford by the training for 4x4 truck in nature in the 1930ties. In the world war II all the truck builders change the cabines sometimes of the trucks you can read avbout this in the german books of "Waffenarsenal" or in the books from - Eckhart Bartels - .... "Deutsche Lastkraftwagen der Wehmacht" ;-)

Bedford QL

или Albion BY3N


Is it a Leyland Hippo?

Thornycroft Nubian 4x4 3 ton truck

The truck is like the british AEC matador but is not the same

Mudguards wrong for Matty or Hippy , fronts wrong shape for Q series, Thornycroft was more substantial. I say Guy Fbax or Albion as possibility. Time and shape are right for Guy though.

The trade plate is Hampshire .Thornycroft were based in Basinstoke,Hants.This is a Nubian.
Unknown models: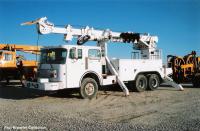 Do you know?
View all »