Mayby STAR 21

Saurer COE Cab / Panhard COE ( cab over engie ) airport fire engine

... ok Saurer usted the same camion cab as Star 21 ;-)

Thornycroft Nubian Major/Pyrene Mk 7

Посмотрите и убедитесь
http://maltabuses.piwigo.com/picture?/7924/category/108-thornycroft

Thornycroft Nubian Major , poss Mk7 , definately on trials and showing its capabilities to british officers from army/navy/air force , cab is a rough fit prototype only , definately a british appliance and a thornycroft

It's not a Pacific with a civil cabin?

I think it is a Star brand but not the model 21


Thornycroft without doubt foam demo probably somewhere like Lasham

Thornycroft, from grill. The cab shape reminds me of AEC Militant a bit. But then AEC, Scammell and Thornycroft all shared in the end.

I don't know the truc, but it is a BIRO Fils french équipment similar to french air force VLEP on Man chassis.
Unknown models: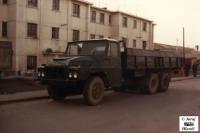 Do you know?
View all »