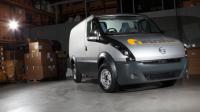 It's great to see small companies putting their collective minds in one place to achieve something great. The Revolve hybrid van is one such example. It is developed by two British companies, Intelligent Energy (IE) and Revolve Technologies, which have invested over £5- (€6.1-) million in the project so far.
Having managed to put together a prototype of their ultra-frugal and ultra-green van. It uses a 75kW (100 hp) electric motor to drive the wheels, and when the battery is depleted, a Ford-sourced 67hp 1.4-liter diesel engine kicks in to recharge the battery. The 100 hp electric motor enables the van to sprint from 0-100km/h (62mph) in a more-than-respectable 8.5 seconds and give it a top speed of 130 km/h (81 mph), while also being capable of extremely low fuel consumption figures, with a quoted 2.0l/100km (138 UK mpg or 114 US mpg).
Its unique drivetrain combination gives it an all-electric range of 110 km (66 miles) and a fully 'extended' range of 740 km (463 miles). The companies' main aim now is to find a way to put the van into production. However, with its unbeatable green credentials, investors would be foolish not to invest and start production.