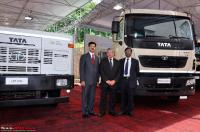 Tata Motors launches 6 heavy trucks in the Indian market. Tata LPK 3118 is a 4-axle tipper with steerable front axles developed for coal transportation and other such consignments. It is powered by the Tata Cummins engine producing 183 BHP @ 2500 RPM & 680 Nm of torque @ 1400 RPM. This engine is mated to the Tata G-1150 9-speed gearbox. GVW is 31,000 kg.
The Tata Prima 4938.S is the first Indian puller-tractor which caters to customers engaged in the logistics of over dimensional cargo. For example, Railway coaches, windmill components etc. This truck comes with a Cummins ISLe engine producing 370 BHP of power @ 2100 RPM and a whopping 1550 Nm of torque @ 1200-1400 RPM. Gearbox is a Eaton ES15409 DD - 9 Speed with crawler and reverse. Gets tilt and telescopic steering column along with air-conditioning and a hydraulically tilting sleeper cabin.
The Tata Prima LX 4023.S & 4923.S have a Cummins ISBe 6.7L engine which produces 227 BHP of power @ 2800 RPM and 870 Nm of torque @ 1700 RPM. Mated to a G-1150 9-speed gearbox with overdrive, it has a 430 mm diameter organic clutch and an option of air conditioning for the cabin.
The Tata Prima 3138.K Has been built specifically for deep mining in coal / iron ore mines as well as bulk limestone movement in off-road applications. It is a 4-axle, 31-tonne GVW tipper with a 9-speed Eaton manual transmission or Allison automatic transmission. This 8x4 tipper is powered by the Cummins ISLe engine with 370 BHP and 1550 Nm of torque on tap. It has 57% gradeability in 1st gear and a 52 degree tipping angle. The 3138 features include new generation brakes, ABS and hub reduction axle specially designed for mining operations. A 19 Cu.mt Hardox "Half Pile" Rock body is built for overburden in coal, iron, and limestone applications.
The Tata LPT 3723 is the 5-axle rigid truck, which can carry around 4.5 tonnes more than the existing 31 tonne multi-axle vehicles from the segment. Power comes from a Tata Cummins B5.9 engine producing 208 BHP of power and 800 Nm of torque. The turning circle diameter is 21.9 meters and it has twin steerable front axles. The truck also has a tag-lift axle.