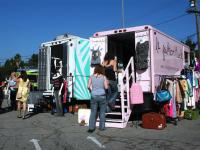 Fashion can get out in different ways. Often it uses by people with good taste, who knows how to adapt the hottest trends from catwalks to the rhythm of urban life and the purchasing power of an average citizen. And sometimes it takes out by cute retro trucks, where you can buy very stylish gizmos at affordable prices. Original way of shopping is offered in America. In a country where you can buy almost anything 24 hours a day, you need to make an effort to win the attention and love of customers. Not enough just to sell something, you need to sell it in interesting way. And now, in the era of supermarkets and large shopping centers you can find on the streets of US cities pretty retro vans with designer clothes.

For example, a successful New York-based designer Joey Wolffer, founder of fashion brand Styleliner, recently purchased an old grocery van and turned it into a cute boutique on wheels. Van attracts attention on the streets of its stylish coloring, but inside customers will find a cozy and "girlish" interior of the small shop. But inside Styleliner may be no more than five people at a time. But that does not stop Joe from selling unique jewelry, leather goods and vintage scarves not only in his native New York, but all over the East Coast.
Boutique on wheels Joe Uolffer is not only in the world. There are also trucks Fashion Truck, Haberdash Vintage (it often can be found in Boston), Bootleg (Ostin), JD Luxe (Los Angeles) and some other retro vans. You can ready about their travels in Twitter, so that loyal customers are always aware of when the original store will be in their city or region. A recent and popular chain clothing store Urban Outfitters relevant to the voyage his first truck. So we can say about the new trend.