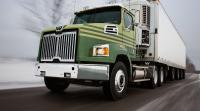 The American company Western Star Trucks, which is a part of Daimler AG, has presented an updated version of the Western Star 4700 Series truck. The 4700 Series is the most popular in the Western Star's range. The model have been producing since 2011. The 6x4 trucks have GVW from 24 tonnes. They are produced as a bare chassis (for various superstructures) and tractor.
This year the trucks got major technical improvement. The newest 11.9-liter Cummins X12 turbodiesel has the power range from 350 to 500 hp depending on the modification, and the torque from 1700 to 2300 Nm. Old engines in the list are still available: 9.0-liter Cummins L9 and a 13.0-liter Detroit DD13. The advantage of the Cummins X12 is its lightweight design, which increases the load capacity and economic efficiency of the trucks.
Another important innovation of the 4700 is the new automated Detroit DT12 gearbox. It has a hill climb assistance function and a clutch control system. The new gearbox provides a smoother ride. With this upgrade the Western Star 4700 Series has got new high-comfort mattress, a lane keeping function and an automatic braking system.