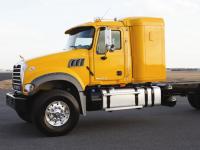 The second news from the Mack is that both its Granite Axle Forward and Granite Axle Back™ models can now be ordered with a 36-inch flat-top sleeper equipped with a 30 by 80-inch mattress, curtain, bunk restraint, under bunk storage and cup holder – as well as rear and side window options.
"We've seen a considerable increase in the number of vocational customers expanding their operations beyond regional sites," Dorwart said. "The new Mack Granite sleeper is ideal for customers in any market working to meet the federal hours-of-service requirements."
Further enhancements to the Mack Granite series include a new headliner console, optional one-piece windshield, and updated Champion Level trim package with button-tuck vinyl and ultraleather seats that delivers the comfort and styling drivers desire at no extra charge over its predecessor. The new Champion Level trim package and one-piece windshield are also available in the Titan by Mack model. A cab-mounted exhaust option available in all Granite models and a clear back-of-cab assist Mack body builder partners.