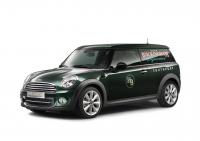 The MINI Clubman-based concept car, scheduled for its world premiere at the Geneva International Motor Show 2012, combines the driving fun for which MINI is renowned with increased load-carrying capability. The MINI experience will therefore find its way into new areas of life, the brand's distinctive character gaining new popularity among target groups not previously on the MINI radar. The closed-off load area behind the front seats and the opaque rear side windows of the new concept set it apart most strikingly from the MINI Clubman, the platform used as its base. The new concept is called easily - MINI Clubvan Concept.
Let's imagine where can we use the MINI Clubvan Concept. The company thinks that it would fit excellently into the fleet of a fashion designer, art gallery owner or catering service. And its abilities as an all-rounder also tick the right boxes for a photographer with a stack of camera, tripod and lighting equipment to ferry around during the week – and bulky sports and leisure gear to pile on board at the weekend. The MINI Clubvan Concept pulls off the trick of blending enhanced practicality and a well-judged lifestyle focus with natural ease.
The load compartment of the MINI Clubvan Concept embodies the car's fresh and rigorous interpretation of the principle used in the classic Mini – of providing the maximum amount of interior space on the smallest possible footprint. The load area reaches from the split rear doors right up to the partition grille behind the two seats. The totally level floor makes full use of the interior's depth, and that allows the concept car's load capacity to exceed the maximum achieved by the MINI Clubman. The lower section of the partition is made from solid aluminum, while the upper section consists of a silver-colored stainless steel honeycomb grating. The side walls and floor of the load compartment are trimmed in high-quality anthracite-colored cloth. The anthracite roof liner, meanwhile, extends along the full length of the interior. This uniform color scheme emphasizes the pure-bred, practicality-oriented character of the MINI Clubvan Concept.
Like the MINI Clubman, the MINI Clubvan Concept is a five-door car. Two front doors for the driver and front passenger, two side-hinged doors at the rear and the rear-hinged Clubdoor on the right-hand side create comfortable access to the interior.