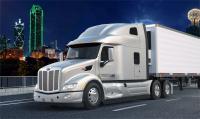 Peterbilt started to offer the long-distance flagship 579 with a unique UltraLoft cabin. Wide mattresses, outstanding headroom and "the industry's largest" microwave oven - these are just some of the highlights that Peterbilt is offering in the latest version of its full-size 579 truck.
The luxurious UltraLoft cabin is designed to maximize "driver comfort" - and is therefore also equipped with a 32-inch flat screen. "The first customers who saw and tested UltraLoft have created overwhelming enthusiasm and requested the first available production models," said Robert Woodall, Deputy General Sales and Marketing Director of Peterbilt Motors Company.
But it is not just the driver who benefits from the new cabin designed for maximum space efficiency: the aerodynamics of the truck have also been optimized by around two percent. "During the design process, we were wondering what's the best way to maximize driver comfort and increase productivity, so we've increased headroom, increased storage space, and increased cabin space," said Scott Newhouse. Chief Engineer of the Peterbilt Motors Company. "The loft-style space, increased efficiency and overall weight reduction testify to the team's focus on maximizing the driving experience."