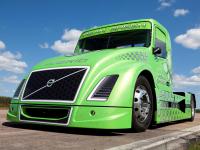 Mean Green, the world's fastest hybrid truck, will attempt to reach speeds in excess of 260 km/h (165 mph) April 27 at Wendover Airfield in Utah to best its own world speed records. The Volvo-built hybrid currently holds speed records in the standing 500 meter (one-third mile), standing kilometer (two-thirds mile) and flying kilometer – international speed standards.
"Technology and innovation are at the core of our business," said Ron Huibers, president, Volvo Trucks North American Sales & Marketing. "Mean Green is a prime example of Volvo's technical capabilities and our continued focus on emerging technologies. Our engineers developed the world's fastest hybrid truck utilizing the same Volvo hybrid drive system powering hundreds of Volvo buses throughout the world, including London's double-decker buses."
Mean Green pumps out a massive 2,100 horsepower and nearly 5,000 lb-ft. torque – of which, 200 horsepower and 885 lb-ft. of torque come from the electric motor. Aerodynamics also plays a vital role in achieving top speed, so Volvo designers selected a North American VN cab and sculpted the optimal aerodynamic shape for the truck.