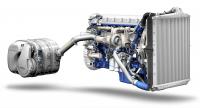 Volvo Trucks is now presenting an engine tailored for the tough Euro 6 environmental standards. Nitrogen oxide emissions have dropped by 77 percent and particulate emissions have been halved. First off the mark is Volvo's D13 460 hp engine, which today powers more than one-third of all Volvo trucks. Customer demand for Euro 6 trucks is still at a modest level. Since February 2012, it is possible to certify vehicles according to the new regulations, but there will be another two years before the requirements become compulsory for all new trucks. The tough emission standards involve advanced engine solutions, including many new components, which in turn mean higher cost for customers. However, this increased cost can be partially offset by various financial inducements and incentive packages, above all in regional traffic and long-haul operations in Europe.
The Volvo D13 for Euro 6 is based on Volvo's tried and tested Euro 5 engine. Just like this unit, the new engine is an in-line six cylinder engine with unit injectors and catalytic exhaust treatment (SCR). In order to meet the new emission requirements, exhaust gas recirculation (EGR) is also used, as well as a diesel particulate filter (DPF) - systems that Volvo Trucks has already been using for several years in the US and Japan.
The SCR system, which converts the nitrogen oxide in the exhaust gases into harmless nitrogen and water vapour, is integrated with the particulate filter in a compact unit that takes up the minimum possible space. The particulate filter, which captures and incinerates the microscopic particles found in the exhaust gases, is automatically regenerated during operation. EGR is used primarily to raise the exhaust gas temperature when the engine is not sufficiently hot to heat up the exhaust gases, which must reach at least 250° C for the SCR system to operate optimally. Unlike conventional EGR systems that cool down the recirculated exhaust gases in order to lower engine temperature and thus reduce nitrogen oxide emissions, the Euro 6 engine's EGR system is virtually inactive during highway cruising, so it does not impact fuel consumption during such operations.