Кабинка от минибусика на ситроеновском шасси. Такими поделками в Heulliez баловались

This is a pumper on a Renault R2167 chassis with bodywork from Drouville.

Renault 2.5 tonnes chassis with cab bodywork supplied by Gruau. rn"Premier Secours" (First Response) Fire equiped, painted and sold by Drouville, rnThis is one of three known survivors.
Unknown models: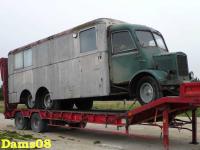 Do you know?
View all »