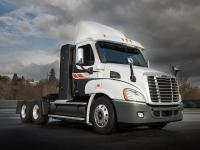 Freightliner Trucks announced that the Freightliner Cascadia® 113-inch BBC day cab will be available with natural gas technology. Freightliner Trucks has partnered with Cummins Westport to provide the new ISX12 G heavy-duty natural gas engine as a factory-installed option. The availability of the Cascadia day cab with natural gas technology adds to Freightliner Trucks' portfolio of natural gas offerings, which also includes the Freightliner Business Class® M2 112 and the 114SD.
"We're continuing to provide our customers with environmentally friendly solutions that also benefit profitability," said Robert Carrick, vocational sales manager – natural gas, for Freightliner Trucks. "Pairing the already-efficient Cascadia day cab with the ISX12 G engine will result in one of the most productive trucks on the road today."
In addition to reduced greenhouse gas emissions, natural gas fuel costs up to 60 percent less than diesel (based on current prices) without sacrificing power or performance. Ideal for regional haul, vocational and refuse applications, the 12-liter ISX12 G natural gas engine is based on the Cummins ISX12 diesel heavy-duty engine platform. The ISX12 G will operate exclusively on either compressed natural gas (CNG) or liquefied natural gas (LNG) and features ratings of 400 hp and 1,450 lb-ft torque, optional engine brake, and manual and automatic transmission capability. In addition, a wider range of optional CNG fuel tank offerings will be available to address the desire for increased range with these vehicles. Production will begin on the Cascadia CNG ISX12 G beginning in Q1 2013.