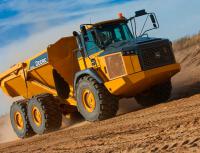 After a successful introduction at Conexpo-Con, the new John Deere 460E ADT joins the 370E and 410E as part of the cutting-edge E-Series. The E-Series ADT is customer driven dump trucks with operator friendly control which have been developed in cooperation with road builders, site developers, and the mining, quarry and aggregate segments. This allowed creating three trucks that are purpose-built to reliably handle various payloads and move materials faster and more efficiently on any jobsite in the world.
Here we get to the technical filling of the E-Series. ADTs feature a John Deere PowerTech™ 13.5L IT4 engine with three power levels based on the model – 422 hp as for 370E, 443 hp for 410E, and 481 hp for 460E model. The engines are complemented with ZF transmission which includes a high capacity retarder, eight forward gears and four reverse gears. In addition, the new John Deere hauler axles are designed for heavy-duty applications and include on-the-fly differential locks, outboard planetaries and each axle is independently pressure lubed and filtered. One of the biggest customer inspired enhancements are the on the fly differential locks that can be applied at any speed, manually or automatically, for improved performance in poor conditions. What allows inexperienced operator to handle the dump truck without difficulties.
To make the operation process efficient the cab monitor provides an easy to read LCD screen with onboard diagnostics, analog/digital gauges, and vital system indicators in addition to it An On Board Weighing (OBW) system allows contractors to view the weight and the number of loads carried To avoid mistakes of operator or/and save your money E-Series dump trucks feature auto-shutdown system turns off the engine after an owner-determined period of inactivity to help save fuel while reducing emissions, idle time operation, and subsequent wear on the power train and hydraulics. Besides the developer emphasizes long term of the trucks' life. High-strength materials used in the trucks provide durable, long lasting structures while still keeping a strong focus on overall weight and distribution. Moreover centralized, true ground level servicing will simplify daily maintenance and overall serviceability.