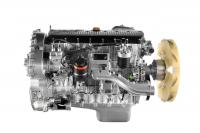 Iveco and FPT Industrial announce their readiness to meet the new Euro VI regulation by means of a unique SCR (Selective Catalytic Reduction) technology, which will be introduced on the two new Cursor and Tector engine ranges for heavy-duty trucks and buses. The new engines, equipped with FPT Industrial "SCR only" technology, will feature optimised combustion and after-treatment systems to retain Iveco class leading vehicle fuel economy with enhanced environmental respect thanks to breakthrough patented control technology in which a very high NOx conversion efficiency (over 95% versus 80-85% of best competitors) is achieved.
Iveco Chief Executive Officer, Alfredo Altavilla stated, "We were the first to announce our Euro VI engine technology strategy back in April 2010 at the Analyst and Investor day meeting in Turin. I said then that we would meet Euro VI standards without Exhaust Gas Recirculation. EGR as a technology has its place in the transport sector but for heavy commercial vehicles that may significantly exceed more than one million kilometres during the course of their life, the technology that reduces fuel consumption and additional operating costs to their minimum is the correct technical choice. FPT Industrial's 'SCR Only' exhaust after-treatment fulfils this important need. It is clear that Euro VI vehicles will be more expensive; technology has a price and a value. We will introduce suitably equipped vehicles when our customers ask us to do so."
For Euro VI, neither Iveco's strategy nor our customers demand for fuel efficient vehicles has changed. In the face of a general acceptance that all cannot be achieved either in the combustion chamber or the exhaust system, Iveco is able to exploit the technological strides taken by FPT Industrial in its tireless developments to further improve the efficiency of the SCR technology. This has led to a fully patented SCR control system that allows unprecedented reduction efficiencies to be achieved. The result is the "SCR Only" technology for medium and heavy duty engines. The "SCR Only" after-treatment technology is exclusively unique in that it is able to comply with the extremely stringent NOx limits by means of the catalytic reduction system alone without the need for exhaust gas recirculation.
By way of continuous technical advances to an already state of the art engine range, Euro VI sees the introduction of new Tector and Cursor engines, allowing Iveco vehicles to retain their class leading fuel economy. Key to the optimisation of combustion efficiency is high mean effective cylinder pressure and high injector nozzle pressures. To achieve these aims, important changes to the crankcase and cylinder head designs incorporate increased structural rigidity, higher coolant flow capacity and increased swept volume. The Tector and Cursor engines both received the latest generation of multiple event common rail fuel injection equipment with peak nozzle pressures of up to 2200 bar.
A new electronic control unit has been introduced to manage both engine parameters and accurate control of the after-treatment system. The new control unit has been designed to optimise packaging and to fully integrate all engine, SCR and DPF functions. For Cursor engine versions using the variable geometry turbocharger, electronic control has been introduced to optimise load response at low engine speeds and to increase the effectiveness of the engine brake. In addition, all engines will now make use of the flap type engine brake valve in order to support passive DPF regeneration and to improve engine brake performance by up to 30% compared to current Euro V engines.