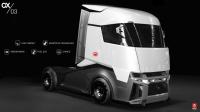 During his press conference at the Hanover show, Heinz-Jürgen Löw, the President of Renault Trucks, announced that the introduction of the new Euro VI standard will also see a comprehensive replacement of the manufacturer's Long Distance, Distribution and Construction ranges as of June 2013. All the vehicles concerned are currently undergoing trials on the Renault Trucks test tracks and under actual operating conditions with a number of partner customers.
Heinz-Jürgen Löw prepared the ground by saying: "In June, there will be a real revolution. Our new vehicles are going to surprise you, not only in terms of their design but also their performance. We are aiming for excellence and are doing everything to attain it."
For the CX/03 industrial design project presented at the Hanover Show, everything was done to improve the vehicle's aerodynamics and make it is light as possible. For example, its radiator grille is based on a tubular structure which combines aluminium and carbon fibre with three aerodynamic blades on the base to guide the airflow towards the sides.