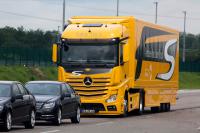 The new Mercedes Benz Actros has a number of new features and product enhancements lined up for the IAA Commercial Vehicles 2012. The flagship vehicle for long-haul transport now optionally includes new engines. The new OM 470 with 10.7 litre displacement is based on the larger and more established OM 471 engine series, boasting the same technical features from the unique patented X-Pulse injection system to the particulate filter. Efficient and low in weight, this compact engine is the lightest engine of its class that complies with the Euro VI emissions standard. In combination with FleetBoard, oil change intervals can last up to 150,000 km. The new Mercedes‑Benz Actros is also available with the new and particularly compact inline 6-cylinder Mercedes-Benz OM 936. With 7.7 litre displacement, this engine is noticeably compact and light. This new design also boasts a number of sophisticated technical features, such as a maximum injection pressure of 2400 bar or the world's first adjustable exhaust camshaft in a standard diesel engine.

Loader and Volumer options are now also available for Actros. The Actros Loader has turned out to be a payload giant, weighing approx. 6500 kg in a standard package that includes the new OM 470, a maximum power of 315 kW (428 hp), the ClassicSpace long-haul cab, aluminium wheels with 315/70 R 22.5 tyre format and a fuel tank with 300 litre capacity. It is thus one of the lightest long-haul tractor units to meet the Euro VI emissions standard. Further improvements have been made to the Actros Volumer tractor unit. With a 315/45 R 22.5 tyre size format and reduced shock course for the spring, this lowliner achieves a coupling dimension of 880 mm – setting yet another record.

Together with the OM 471 and the new "Predictive Powertrain Control" (PPC), as much as three per cent is saved on fuel. PPC represents an anticipatory cruise control function coupled with the drive system. The new Actros is not only more efficient but also safer. Regarded as the safest truck in the world, the latest version goes one step further with the next generation of the unique Active Brake Assist 3. The emergency braking system is now capable of independently initiating hard braking before stationary obstacles.