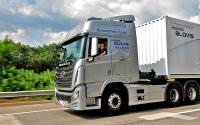 Of all automakers and other companies that developing autonomous technologies, Hyundai is perhaps the least visible. Most likely, you did not even suspect that the company is also working on an autonomous truck.
On August 21st, Hyundai conducted the first road tests, during which the truck steered, accelerated and maneuvered on its own. In total, it drove on a highway about 40 kilometers. Of course the driver was in the cabin all the time and controlled the process.
Hyundai says the truck abided by the traffic rules in the area and drove on its own with the help of 10 sensors, three front and rear cameras, two front and rear radars, three lidars in the front and sides and a hitch angle sensor in the trailer coupler. The latter in real time monitors the position of the semitrailer allowing the truck to be adjusted safely. Information from all sensors is superimposed on the HD-card. Based on the combined info, the system decided when, how and what to do.
"This successful demonstration proves that innovative autonomous driving technology can be used to transform the trade logistics industry." said in a statement Maik Ziegler, Hyundai's head of research for commercial vehicles.
"At this stage, a human driver is still used to control the vehicle manually in certain situations, but I think we will achieve level 4 automation soon as we are constantly upgrading our technological capability."