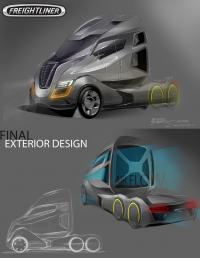 Freightliner Trucks announced Minwoo Song from the College for Creative Studies in Detroit, Mich., as the winner of its "Design the Future of Pride & Profit" truck design contest. The contest, which ran from November 2011 through February 2012, invited college students in North America to submit original designs for the owner-operator style truck of the future. Three finalists received an all-expense paid trip to the 2012 Mid-America Trucking Show (MATS), where their designs were on display at the Freightliner Trucks booth.
Song's entry, titled "2020 Freightliner Super Truck," featured unique concepts such as a hydrogen fueled powertrain, an organic light-emitting diode (OLED) panel on the steering wheel and a liquid-crystal display (LCD) panel on the dashboard. Fans of the Freightliner Trucks Facebook page lauded the practicality of the interior design, which included a roll-up bed and multi-function luggage storage, reducing the time it would take a driver to organize his or her personal belongings. A panel of judges narrowed the 50 submissions down to the top three, with fans voting for the eventual winner via Facebook.
Judging criteria covered a broad spectrum of required skills, including concept, overall product appearance, originality, power of emotion, and illustration quality. Song will receive a $20,000 scholarship along with an internship offer from Daimler Trucks North America. Jeeho Cha, from Lawrence Technological University, finished as runner-up and received a $10,000 scholarship, with Ahadin Hutasoit of Art Center College of Design rounding out the top three.
1st place:
2nd place:
3rd place: