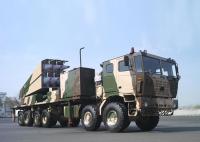 First of all Tata Motors Ltd has developed an indigenous high mobility, all-terrain and all-wheel drive, Tata LPTA 5252-12x12 vehicle, specifically for missile launcher cum carrier applications like integration of Prahar, BrahMos and Nirbhay Missiles, in close coordination with R&DE – DRDO. The vehicle has high mobility features like Anti-Locking Braking System (ABS), Central Tyre Inflation System (CTIS), Auxiliary Gear box with High and low speed mode and differential locks system. The vehicle is operable normally in 12x8 mode and can be driven in 12x10 and 12x12 modes as per terrain requirements. It is equipped with 525 Hp engine and automatic transmission system with 7 forward and one reverse gear. Its max speed is 80 kmph in top gear and it can carry up to 33 tonnes.
Another new models from the military LPTA range are Tata LPTA 2038 6x6 Refueller vehicle with 7000 litres tank, specifically designed for the Indian Armed forces, Paramilitary, State police, DPSUs, State Government & Municipal Agencies and the Aviation industry; and Tata LPTA 3138 8x8 missle carrier with Pinaka missile system.
Tata Motors also presents the Tata Mobile Bunker, a new concept of armoured personnel carrier based on the Tata LPA 713, 4-wheel drive platform. The vehicle is protected against gunfire, corresponding to ballistic protection of NIJ Level III. The Tata Mobile Bunker is a highly mobile platform and can be used as a base for various protected applications like troop carriers, ambulances and buses. The Tata Mobile Bunker vehicle can be used to carry military personnel through naxal infested parts of the country safely. The Tata Mobile Bunker is powered by a 155 bhp , 550 Nm engine. It features firing ports and roof hatch for retaliatory action , excellent gradeability and high ground clearance for all terrain usage , AC unit provided for better ventilation inside the vehicle and is CMVR certified. It is capable of a top speed of 80 kmph and has a payload capacity of 1 tonne.
Tata Motors Ltd. has developed the Tata Light Armoured Vehicle, to aid the troops in Counter Insurgency Operations as well as for patrolling the hinterland. In line with this, the Tata Light Armoured Vehicle has been engineered to be far superior to its competitors, in terms of performance, safety, and convenience. Also, the vehicle would be certified by CMVR regulations post armouring, which is a mandatory requirement to ply legally on Indian roads. It has Tata 3 L Direct injection common rail Turbocharged Intercooled Diesel Engine with output of 115 bhp and maximum torque of 300 Nm. It is equipped with a simplified protected cabin for 2 person.
Tata also unveiled at the show new LPTA 3138 8x8 all wheel drive chassis, with the cab from the newest model Tata Prima. It was showed as a Mobile Water decontamination system. This water decontamination system is capable of purifying the most impure forms of water and make it portable through Reverse Osmosis (RO) process.

The funniest and the most strange Tata's vehicle on the show is the Micro Bullet-Proof Vehicle (MBPV), a small vehicle jointly developed by VRDE-DRDO and Tata
Motors, responding to new requirements set by the Indian elite commando forces (NSG, Marine Commandos, Para Battalions & Force One). The vehicle provides assault teams with protected mobility solutions, assisting operations indoors.