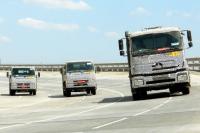 Daimler has presented its new brand of trucks for the Indian market, BharatBenz, with the unveiling taking place at the production location in Oragadam, near
Chennai in India. There is a wide range of trucks ranging from 6 to 49 tons across various applications. Look at the first picture of BharatBenz prototypes. The first trucks are built on a chassis of Mercedes-Benz Axor and Mitsubishi Canter models. According to Daimler, the Bharat part of the name means "India" in the various national languages, and has been chosen to reinforce Daimler Trucks' commitment to serving the local market.

"We are sending a clear message with our new truck brand: Daimler is at home in India. Our BharatBenz trucks are the right combination of Daimler's DNA and India's market know-how. These trucks will be developed and built in India, for India, and by specialist employees from India," said Dieter Zetsche, Chairman of the Board of Management of Daimler AG & Head of Mercedes-Benz Cars. India has become the world's second largest market for medium- and heavy-duty trucks. The company expects that by 2020 the Indian truck industry to double. The most promising segent is the "new middle market" which is expected to grow to as much as 80 percent of the Indian truck market until 2020. "The BharatBenz product range will draw on Daimler Trucks' entire range of technological expertise in order to best address the special needs of Indian customers." said Marc Llistosella, Managing Director and CEO of Daimler India Commercial Vehicles.