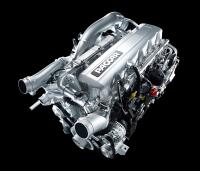 DAF Trucks announces a new engine generation that has been developed for the new Euro 6 emissions legislation, which comes into force in the European Union on 1 January 2014. The 12.9 litre Euro 6 PACCAR MX-13 engine uses ultra-modern common rail technology, a turbo with variable geometry and advanced controls for maximum efficiency. In order to comply with the strict Euro 6 emissions requirements, it features exhaust gas recirculation, together with SCR technology and an active soot filter! Before, SCR and EGR tecnologies were never used together.
Compared with the current Euro 5 standard, Euro 6 requires that nitrogen oxide (NOx) emissions must be reduced by a further 77%, while soot particle emissions must be cut by 66%. In concrete terms, this means that nitrogen oxide emissions have to be reduced from 2.0 to 0.46 grams/kWh, and soot particle emissions from 0.03 to as little as 0.01 grams/kWh. These are however not the only requirements: Euro 6 engines must meet these stringent requirements for a minimum of seven years or 700,000 km, in all operational conditions. In the future, authorities will carry out random checks to ensure that the vehicle is compliant with these standards, and new on-board diagnostics systems will warn the driver in the unlikely event that this is not the case.
How do the company developed the new engine? A quarter of the Kenworth and Peterbilt trucks supplied in the United States since summer 2010 are equipped with the six cylinder 12.9-litre PACCAR MX engine with EPA10 specification. "This engine complies with current North American legislation, of which emission values come close to those set out in Euro 6", explains Ron Borsboom. "We have been able to build up vast experience of technologies we will now be applying in Europe for Euro 6, such as exhaust gas recirculation (EGR), a turbo with variable geometry and an active soot filter. We have further developed these technologies, focussing in particular on how we can best integrate them into European vehicle concepts. A good example is the higher position of the EGR cooler, which allowed us to place the turbo closer to the block, further reducing the overall size of the engine."
The common rail system of the new Euro 6 PACCAR MX-13 engine allows high injection pressures of up to 2.500 bar, and provides the opportunity to use pre- and post-injection, or a combination of both. This results in finer atomisation and many more possibilities to optimise combustion to ensure the lowest possible emission and noise levels, and the lowest possible fuel consumption. The main advantage of using a turbo charger with variable geometry (VTG) is that the engine can rely continuously and across its entire rpm range on the best turbo settings for maximum performance.
The new 12.9 litre Euro 6 PACCAR MX-13 engine will enter production at the start of 2013, with outputs of 300 kW/410 hp, 340 kW/460 hp and 375 kW/510 hp. "Obviously, the introduction of new and additional Euro 6 technologies will have consequences for our vehicles", concludes Borsboom. "We will be revealing these at the IAA in Hanover in September. You can be sure that DAF will come up with something interesting!"