The variant with a domestic turkish made cab. The design a little similar to F8 model.
cab was the o.a.f. design before they were taken over by m.a.n.

I agree with Simon Burke, this is the cab of OAF, as with the cab-presses and tooling of the Bussing-cab MAN must have shipped them to Turkey. In 1990 I have spotted only a few of them, the Bussing-cab was much more around.
Unknown models: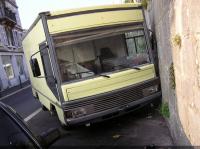 Do you know?
View all »