Mack » B72 / B73 / B75 / B77 with L-series cab
n/a
I WOULD GIVE MY LEFT YOU KNOW WHAT TO HAVE ANY THREE OF THE SLEEPER MODELS. I DON"T SUPPOSE ANYONE WOULD CONSIDER LETTING ME DRIVE ONE OF THESE BABIES AROUND JUST SHOWING IT OFF. I DROVE FOR 40 YRS
AND AM KINDA RETIRED , BUT I WOULD DO IT FREE FOR EXPENSES, EVEN PULL A LOAD ONCE IN A WHILE. CONGRATS TO THE OWNERS, THEY ARE GORGEOUS.

Hey Bob, I would be honored!! My 75/LJ Will be out in August. Look me up!
Unknown models: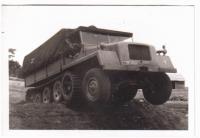 Do you know?
View all »