Pacific M26 кабина фирмы Pelpel

Подозреваю что этот балластник все таки Bernard

ex WW2 US Army surplus chain-driven Pacific tank transporter. Cab has been rebodied for civilian use of pulling oversize and heavy industrial construction loads. Cheap and widely available during the 50s, many transporters used them and often replaced after a few years their gasoline guzzling engine with more economical diesel power sources.

Ох, как похож на Berliet )))

Definately a Pacific , and it has a chain final drive which is lubricated by an open oil feed with no catchment facility so it leaves a trail of oil behind it ! used extensively after the war in the uk with home made cabs , very thirsty so the hercules engine often replaced by a leyland or similar

Old Tatra 813?

Could well be a 1970s WILLEME-PRP 6X6 Lorry with Berliet mechanicals.
Unknown models: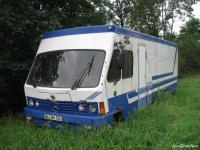 Do you know?
View all »
Recent Comments:
Beifang Benchi » ND 2nd series
<a href=http://mototexdom.ru/kvadrotsikly-detskie>купить детский квадроцикл</a>
American LaFrance » Type 12 / 20 / 34 to 56 / 69 to 75 / 80 / 85 / 90
WEBPILOT is one of the leading Digital advertising agency in Dubai UAE, specialised in delivering full-service web solutions and digital marketing campaigns throughout UAE. Some of our most popular services include innovative web design, technical web development, search engine optimisation (SEO), content creation, eCommerce builds and social media strategy.
The most talented evidence indicates that considerable blood pressure does not agent headaches or nosebleeds, except in the protection of hypertensive calamity, a medical emergency when blood twist someone's arm is 180/110 mm Hg or higher. If your blood pressure is unusually momentous http://viagrawithoutaprescriptiondoctor.com/ viagra without a doctor prescription you be enduring pain in the arse or nosebleed and are appreciation unwell, hold on five minutes and retest. If your reading remains at 180/110 mm Hg or higher, call 9-1-1.
I want to buy Ashok Leyland Alrd-20